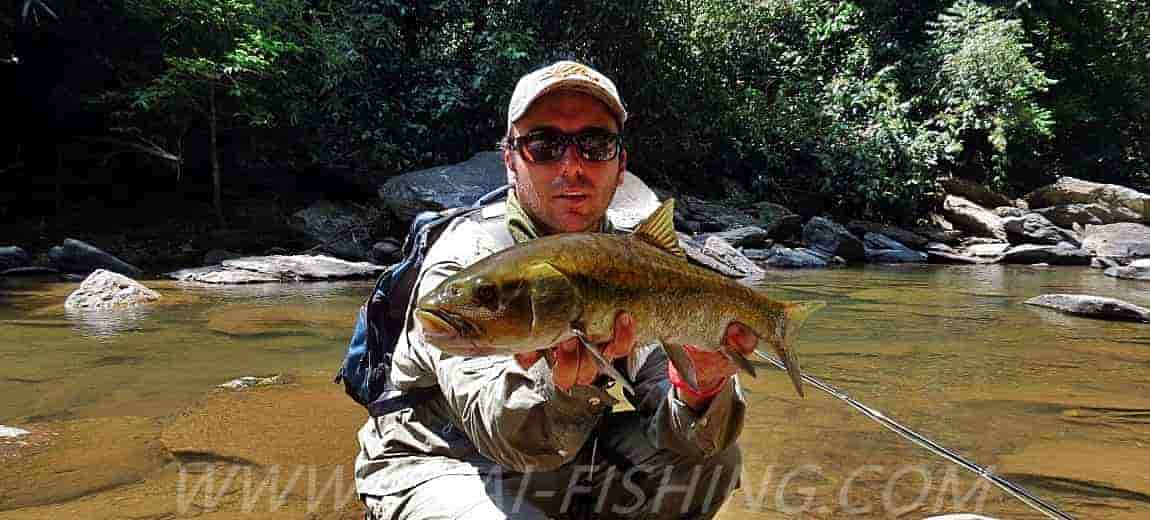 Mahseer Fly Fishing in Thailand
Guided Mahseer Fly fishing in Thailand, Mahseer fishing trips with camping, or more gentler walk and wade fly fishing, we'll provide an unforgettable Mahseer fly fishing adventure to the best Thai Jungle Rivers!
Thai Fishing offer guided Mahseer fly fishing trips to remote jungle rivers, in south Thailand. For an optimum fishing experience we recommend fishing trips of at least three days, because of the travel time to these locations. The jungle will uncover some of the most pristine and challenging Mahseer Fly fishing in Thailand, and with the largest concentration, of Thai Mahseer in Thailand.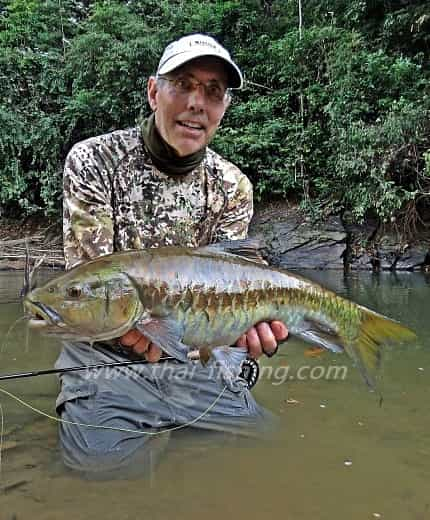 We allow ourselves to call, these jungle rivers, the Thai Mahseer capital of Thailand. You will be surprised at the numbers of fish that hang out, in these clear jungle rivers.
These jungle rivers are a dry fly and sight fishing paradise, for the fly fishermen who like to test their skills on shy fish. Here we catch the wary Thai Mahseer in clear jungle rivers, with nymphs and dry flies. The power of the Thai Mahseer is truly amazing; they hit hard and fight dirty, with an incredible power.
Customers often compare the take and speed of the Thai Mahseer to the famous saltwater Bonefish, and in the same time you will fish in some incredible beautiful surroundings you will not find elsewhere in Thailand. The Mahseer fly fishing in Thailand, reminds one of the finest trout fly fishing you can find for example in New Zealand or Patagonia.
The Fly Fishing Locations
Consists of 3 big rivers and 4 smaller streams. The Thai Mahseer are a very shy fish and to enjoy this Mahseer fly fishing experience optimal we advise not more than 2 anglers per stream/river. We recommend 7 to 9 ft. fly fishing rods between weights 6-8 for these rivers and fish.
Fishing Season
Rainy season starts around May to October and is the spawning season for the Thai Mahseer. The biggest fish, from the lake will travel upstream in the rivers and smaller streams to their spawning grounds. In this period there will be a likelihood of colored water due to monsoon rains. The best time to catch these fish is at the end of the rainy season, when the river waters start to clear.
Dry season, gives you the best Mahseer fly fishing, the rivers stocks of Thai Mahseer are up to 4-5kg. Which provide excellent action. The water, generally, is crystal clear, so therefore the best method, of fly fishing, is to stealthily stalk up the river and spot your fish first, before tempting it with a dry fly or nymph.
The Sight Fishing Style of Mahseer Fly Fishing
Means that the more river that is covered, the more fish that will be found, so be prepared to walk. The rewards to this effort are that when everything falls into place seeing a large Thai Mahseer take your dry fly or nymph, and you are hooked on the fish of your dreams.
Do keep in mind that if you are concerned about your casting skills, Thai Mahseer is wary and cunning. They won't give you too many chances so success comes from understanding how to deceive the fish and in being able to get the fly in the right place at the right time. Reasonable expectations will keep even beginners happy. On an average day you can expect to have the opportunity to catch a reasonable number of reasonable sized fish. How many are landed depends on the skill of the fly fisherman!
Fishing day
At the end of your fishing day, you will return to our lake Bungalow. But if you really want to get away, our recommendation is overnight trips in the jungle, in that way you can move higher up in the rivers and camp overnight. (You will sleep in a hammock, camp near the river. Thai Fishing is the only Fly fishing guide service who has great experience with camping in the jungle). Fly fishing in places where few people have been fishing before, we promise a trip to remember!! (The camping trips will have an additional charge 2.000 baht per night from the prices below and include, all fishing and camping equipment, and are tailored to suit your request).
The Pinnacle of Fly Fishing
Is fishing for wild fish, in wild places! Be adventurous and choose something that will live on in your memory well beyond your trip. So if you thinking of trying, Mahseer fly fishing in Thailand, here are a few facts you might like to know. The rivers that connect with the Lake are undeniably Thailand's most prolific Thai Mahseer destination, we cannot promise big fish, but they are there. In the rivers, there has been caught a Thai Mahseer of no less than 13 kilograms and in the Lake one of no less than 17 kilograms. This Thai Mahseer was caught on a baited hook.
Fly Fishing Equipment.
When booking a guided Mahseer Fly fishing trip with Thai Fishing, all fly fishing equipment is included. We use only high quality fly fishing equipment but you are obviously welcome to use your own, if you prefer to do so. We have chosen to write exactly what equipment we provide so you can see the quality of the fly fishing equipment, we provide, free of charge:
Fly rods: Sage fly rod. Models: The X, Xp, One, Xi3 and Payload, R.L Winston fly rod. Model: Boron ll-Mx and Thomas & Thomas fly rod. Model: Vector and rod from C L – Fly, our fly rods is between 5 to 9 weight. Fly reels are: Abel Super Series, Loop Fly Reels, model: OPTi reels and Tibor Fly Reels: model: Everglades QC. We use Scientific Anglers and Rio fly lines. As leaders we use Airflo polyleader and Rio fluorocarbon as tippets.
Our Fly Fishing Guides
Will carry good supplies of the necessary flies for this trip but are always willing to see new patterns; a good way to get new inspiration to new patterns. We manufacture our own high-quality flies on Mustad, Owner and Gamakatsu hooks. These flies have been extensively tested and are the best flies you can get. We know which flies works in these waters, and we will share our trade secrets with you! You can read more about Mahseer Flies here.
MAHSEER FLY FISHING PACKAGE:
What Is Included In The Price?
– Round trip transfer from Phuket and Surat Thani Airport or from any hotel in Phuket and Khao Lak or Krabi town.
– Accommodation in our Lake bungalows (bed linen provided free of charge)
– Three meals per day.
– Use of longtail boats
– Use of all fly fishing equipment (although you may bring your own equipment if you wish)
– Professional English-speaking fly fishing guide and local guide
– Bottled water, soft drinks, tea, coffee and fruit snacks
Not Included In The Package:
– International or Domestic airfare to Phuket, Thailand.
– Alcoholic drinks (if you need, it must be bought before we leave the pier)
What To Bring On Your Mahseer Fly Fishing Trip:
– Sunglasses (we recommend Polaroid light)
– Sun block
– Towels
– Fishing hat
– Lightweight waterproof clothing.
– Extra socks
– Sturdy shoes or boots (with a tight fit) that can release water. Our fishing guides use Simms G3 Guide Boot with wet wading socks. We do not recommend hip waders for the jungle rivers; as you might have to cross a river with deeper waters.
– A camera – and your very best smile!
– Clothes for Mahseer Fly fishing; should be greenish in color so you blend in with the natural surroundings and don't frighten the fish. Recommended: light long pants and light long-sleeve shirts.
Mahseer Fly Fishing Package Prices

Peak season: October – March.
Package Price in Thai baht:
| | | | | | | |
| --- | --- | --- | --- | --- | --- | --- |
| | 2 days | 3 days | 4 days | 5 days | 6 days | 7 days |
| 1 angler | 25,000 | 35,000 | 44,000 | 54,000 | 63,500 | 73,000 |
| 2 anglers | 27,500 | 37,500 | 48,500 | 59,500 | 70,500 | 81,500 |
(Camping trips will have an additional charge 2,000 baht per night/ person from the prices above).
To convert to your own currency use Currency converter.
With our Mahseer fly fishing trips, there really are no hidden extras. The price quoted above includes all taxes, equipment hire, food, accommodation and transport (excluding flights into Phuket).
You can watch video from our Mahseer Fly fishing trips here