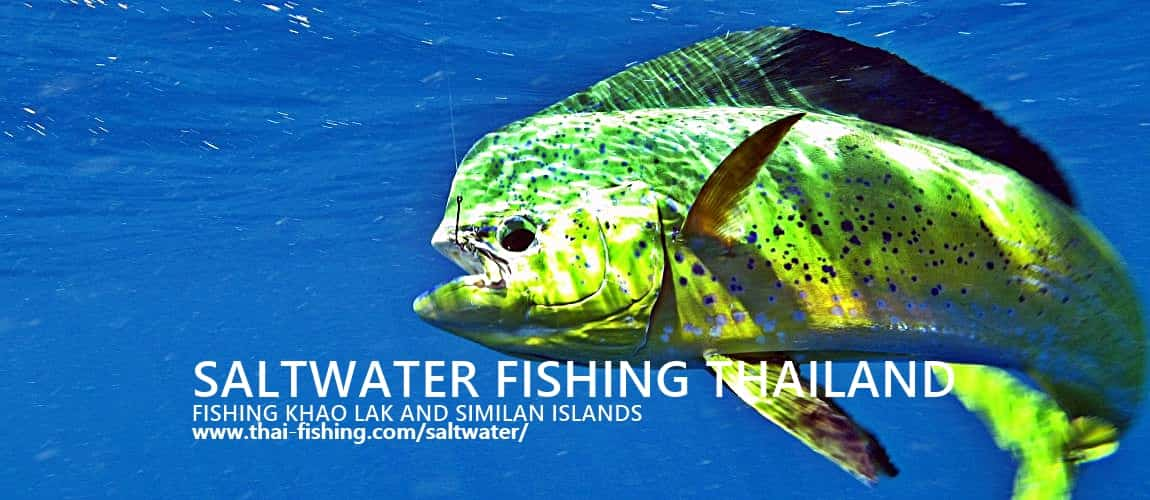 Fishing in Khao Lak and Similan Islands, Thailand

Thai Fishing offer Jigging and Popper fishing trips in Khao Lak, from Speed boats and low cost longtail boat fishing. As well as Big game fishing in Phuket.
Khao Lak is located 80 km north of Phuket on the west coast in the Andaman Sea in Southern Thailand. Our fishing trips to the FADs (Fish Aggregating Devices) at Khao Lak and Similan Islands; will bring you to some of the best saltwater fishing in Thailand.
The FAD is a fishing hot spot with a virtually guaranteed catch to any angler; they offer a variety of saltwater game fish species, which are interesting for the fisherman like; Dorado, Wahoo, Giant Trevally, Spanish mackerel, Barracuda, Queen Fish, Sailfish, Cobia, and various species of Tuna, Snapper and Grouper. It is possible to fish in several different ways at the FAD. Here you can fly fish, Popper fish and fish with jigs or fish with live bait. For the fisherman who only wish to fish for the biggest fish; we recommend our Jigging and popper fishing trips to the FAD at Similan Islands.
Khao Lak Fishing Season
Starts in October and runs through May. All our Khao Lak fishing trips are done from Long tail-boats or by speed boats. By using our longtail boats, we can offer low cost saltwater fishing trips. Our Similan Islands fishing tours is only made from our 2 walk-around sport fishing Speed boats and can be done as a day trip or multi-day trips.
FAD FISHING FOR DORADO
The Dorado fishing trips from Long-tail boats to the FAD are our low price Khao Lak fishing tours.
The FAD are made by local fishermen and designed to create habitats for marine life. Like small crustaceans, squid and small bait-fish; and has created some of the best Dorado fishing in Thailand.
The fishing method on our longtail boat fishing trip is with live bait or trolling with dead bait. By using this fishing method, it is not only Dorado you have the chance to catch on these trips; but most of the species mentioned above. More info about Dorado Fishing. Click here
FISHING SIMILAN ISLANDS
Jigging and popper fishing trips in the waters around the Similan Islands, from our 2 walk-around sport fishing Speedboats.
These fishing tours will offer you the opportunity to experience some of the most spectacular saltwater fishing in Thailand. Having fast boats means no unnecessary time wastage getting you there, which means you get more time fishing. More info about Fishing Similan Islands. Click here
GIANT TREVALLY FISHING KHAO LAK
Giant Trevally fishing trips in Thailand. The fishing destination is one hour outside of Khao Lak, in the Andaman Sea.
The fishing ground at the FAD located, around the Similan Islands. A area that offers some of the best fishing, in Thailand, for Giant Trevally. You will have the opportunity to fish with popper, jig's and fly on these trips. These fishing spots can hold some mammoth fish; that you will wish you had never hooked. GT are 'pound for pound' one of the toughest fish to catch in the world. More info about Giant Trevally Fishing. Click here
BIG GAME FISHING IN PHUKET
Besides our saltwater fishing trips in Khao Lak, we can also guide you to the best Big game fishing in Thailand.
The Big game fishing out from Phuket, located in the majestic blue waters of the Andaman Sea; is well known as the best in the country. In the southeast end of the Island you find the Chalong Bay; where most of the Big game boats in Phuket are based. We work with the best captains and boats and provide game fishing trips, on different charter boats. For the discerning fisherman that looking for a quality boat within a budget; or the angler who looks after a top-equipped luxury Big game boat. More info about Big Game Fishing in Phuket. Click here
Khao Lak Saltwater Fishing Reports
Our fishing trips to the Similan Islands, from our speedboat based out of Khao Lak started in November; it was a little later than we had hoped, but because of the sea conditions, it was not possible to start earlier this season…. Continue reading Khao Lak Fishing Report.