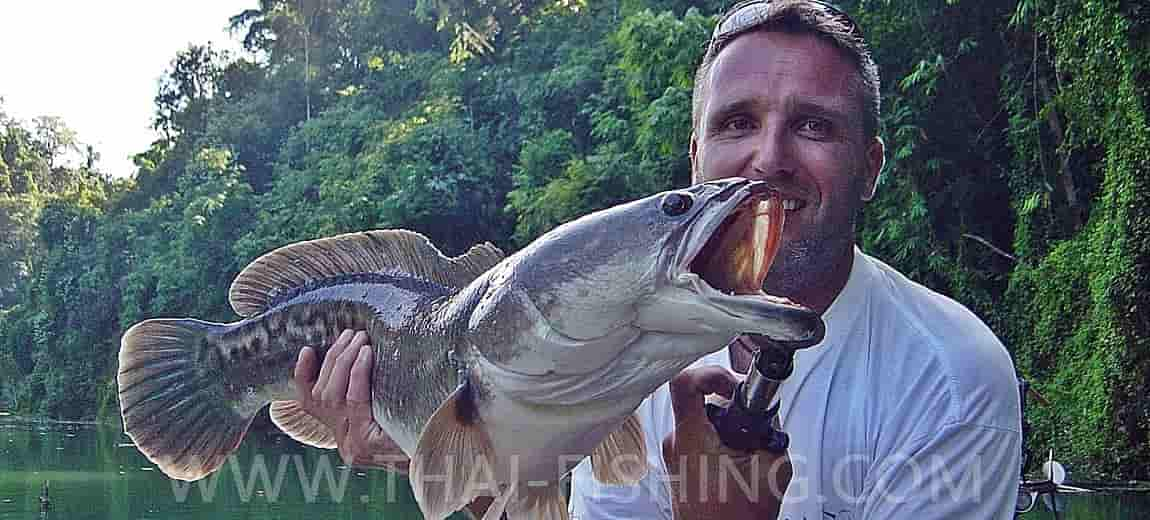 Giant Snakehead Fishing in Thailand

Guided Giant Snakehead fishing in Thailand. Some of the best top water lure and fly fishing in Thailand for Giant snakehead can be found in south Thailand's large jungle lakes.
The Giant Snakehead is a monstrous and powerful fish, a top predator with extremely sharp teeth and a reputation for extreme aggression when the attacking its prey. Thailand is one of the most popular destinations for Giant Snakehead fishers from the rest of the world. Snakehead anglers will tell you that once you have a big Snakehead attack your surface lure, you'll be hooked for life! If they don't want to eat it, they want to kill it.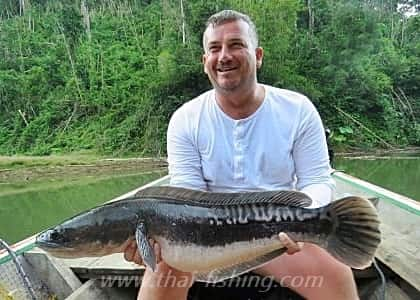 There is nothing more exciting for an angler than seeing that big fish explode on your surface bait. One of the reasons to the lake, is one of the best Giant Snakehead fishing destinations in Thailand is that; the Lake was created by flooding a valley.
The old jungle in this man-made lake has created excellent habitat for the Giant Snakehead. Our Giant Snakehead fishing trips is done from long tail boats with an electric engine, which in some ways can be compared to lure fishing for Pike or Bass.
The weedy and snaggy areas of the Lake, are just perfect fishing waters for top water lures; it will attack everything that comes to close. They take the lure with an incredible power and will immediately try to dive to the nearest snag or cover.
When you fishing Giant Snakehead
Your casting accuracy is important, because many times it is the shorelines weed and vegetation areas that provide holding and hiding places for the Giant Snakehead, from where it can attack unsuspecting prey. It hunts baitfish, frogs and whatever it can find in the weed areas. To catch the Giant Snakehead, on top water lures is a very exciting fishing technique, because the angler see's the strike: One moment you're working your lure back toward the boat and the next moment it explodes like a charge of dynamite. To properly work a top water lure, cast and immediately begin your retrieve with constant cranking, it is important to have contact with the lure when it hits the water, as many times the Giant Snakehead will strike immediately. For best hooking results wait until you feel the fish before setting the hook.
The best time for Giant Snakehead fishing
Are normally, early morning and in the evening, when it is cooler than the heat around mid-day. The Snakehead goes to deeper water at this time. Generally the Giant Snakehead we catch is from 2 kg and up.
Catching trophy fish is what drives many anglers. So you will be glad to know, that there have been caught Giant Snakehead of 11 kg in the lake. The Giant Snakehead can also be at least as quirky and difficult to outwit as they are ferocious and greedy. They are a challenge for the serious predator angler.
The Jungle Lakes Water Level
The water level often fluctuates due to seasonal draw downs. When the water starts to draw down in the dry season it is difficult for shoreline weeds and vegetation to take hold. Consequently, because of the Giant Snakehead's preferred hunting technique, the shallow brush, logs etc. they use for cover, from where it can attack the prey disappear, At this time Giant Snakehead tend to move offshore, and stay in deeper water, in areas with submerged trees or fallen logs. Now diving lures are a better choice, you can spot the Giant Snakehead, as it is coming up to the surface to breathe, casting to seen fish, can be an incredibly exciting technique, and can give some brutal strikes.
On our Giant Snakehead fishing trips you are also likely to catch the hard-fighting Hampala Barb also called Jungle Perch. The Lake has one of the largest population of Barb in Thailand. These fish provide good action; you can often spot big shoals as they press shoals of bait fish to the surface when they are feeding. The Hampala Barb is a powerful a hungry predator and will take most lures that are cast to it.
JUNGLE RIVER FISHING
If you are up for even more adventures we can take you on a Jungle River Fishing experience as well in the rivers that connect with the Lake. The Giant Snakehead usually never go up in the river very far but you will meet Hampala Barb, Forest Snakehead, Cobra Snakehead and the extremely powerful Thai Mahseer. For this type of lure fishing we use lure-like smaller spinners: e.g. Blue Fox Vibrax spinners or Spoons e.g. ABU Toby or Møresilda. You can choose to move higher up the rivers and camp overnight. Fishing in places where few people have fished before, or you can return to our bungalow on the Lake at the end of the day.
You will sleep in a hammock, camp near the river. Thai Fishing is the only fishing guide service who has great experience with camping in the jungle. The Camping trips include, all fishing and camping equipment, and are tailored to suit your request.
Giant Snakehead Fishing Equipment
When booking a guided Giant Snakehead fishing trip with Thai Fishing, all fishing equipment is included. We only use high quality fishing gear but you are obviously welcome to use your own fishing equipment if you prefer to do so. We have chosen to write exactly what equipment we provide so you can see the quality of the fishing equipment, we provide, free of charge:
Our fishing rods are manufactured on G. Loomis and Ocean Beast blanks. Reels: Shimano Biomaster and Stradic spinning reels loaded with Power Pro braided line. We have a huge selection of lures, Rapala wobblers and spoons and surface lures. All lures is assembled with Owner Hyper wire split rings, Owner ST-66-TN-4X treble hook, or VMC 8626-3X treble hook. Surface lures is assembled with Owner Double 3X hooks.

GIANT SNAKEHEAD FISHING PACKAGE:
What is Included in the Price:
– Round trip transfer from Phuket and Surat Thani Airport or from any hotel in Phuket and Khao Lak or Krabi town.
– Accommodation in our lake bungalows (bed linen provided free of charge)
– Three meals per day.
– Use of longtail boats.
– Use of all fishing equipment (although you may bring your own equipment if you wish)
– Professional English-speaking fishing guide and local guide
– Bottled water, soft drinks, tea, coffee and fruit snacks
Not Included in the Package:
– International or Domestic airfare to Phuket, Thailand
– Alcoholic drinks (if you need, it must be bought before we leave the pier)
What to Bring on your Giant Snakehead fishing trip:
– Sunglasses (we recommend Polaroid)
– Sun block
– Towels
– Fishing hat
– Lightweight waterproof clothing
– Camera and your very best smile
If you want to go to the river:
– Sturdy shoes or boots (with a tight fit) that can release water. Our fishing guides use Simms G3 Guide Boot with wet wading socks. We do not recommend hip waders for the Rivers as you might have to cross a river in deeper waters.
– Clothes should be greenish in color so you blend in with the natural surroundings and don't frighten the fish
Peak season for Giant Snakehead fishing: July – March.
We recommend that your fishing trip takes up a minimum of three days because of the travel time to this locations.
Package Price in Thai baht:
| | | | | | | |
| --- | --- | --- | --- | --- | --- | --- |
| | 2 days | 3 days | 4 days | 5 days | 6 days | 7 days |
| 1 angler | 24,000 | 33,000 | 41,000 | 49,500 | 58,000 | 67,000 |
| 2 anglers | 26,500 | 35,500 | 45,000 | 55,000 | 65,000 | 75,500 |
| 3 anglers | 29,000 | 39,500 | 50,000 | 61,000 | 72,500 | 83,500 |

To convert to your own currency use Currency converter .
With our Giant Snakehead fishing trips there really are no hidden extras. The price quoted above includes all taxes, fishing equipment hire, food, accommodation and transport (excluding flights into Phuket).