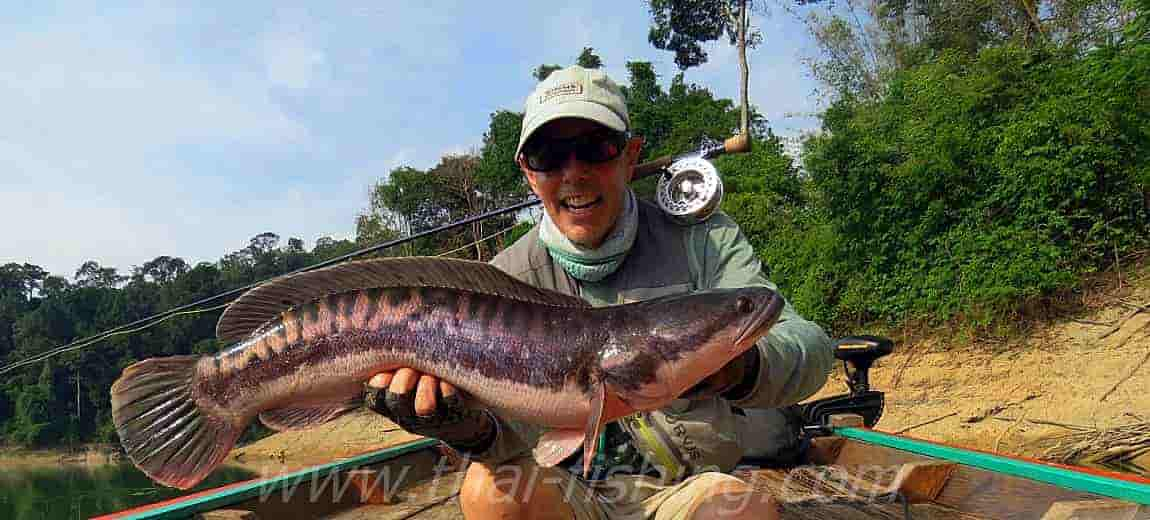 Fly Fishing Thailand – Jungle Fly Fishing Species

Fly anglers who have not been fly fishing in Thailand are missing out on something special. If you're the type of fisherman who likes pristine wild nature and fishing for truly wild fish.
You might have found your next jungle fly-fishing destination! Our Jungle fishing trips will take you to the finest freshwater fly fishing in Thailand, deep in the jungle; where your days will be filled with tremendous fly-fishing. You will be surrounded by breathtaking scenery, wildlife like; Hornbills, Gibbons, Monkeys and Elephants.
The lakes and rivers in the jungle of southern Thailand; offer different hard fighting fish species, which are interesting for the fly angler. Below is a brief description of the most known fish species we fly fish for in our waters.
MAHSEER FLY-FISHING
The Jungle rivers and streams together with the lake, offer the best fly fishing in Thailand, for both Thai and Blue Mahseer.
The rivers hold fish up to 4-5 kg; where sight casting for moving shadows in clear water is part of a normal day. You can use Nymph or Streamer, but it's the sight fishing with dry flies that make the rivers so special; because the Mahseer like nothing better than grabbing a well-placed dry fly as it floats by.
If you want only the biggest Mahseer +10kg, it's in the lake you find the largest fish. There you can blind cast with streamer while covering the water or sight fish with Nymph, Streamer and Dry flies. Read more about Mahseer fly fishing here
GIANT SNAKEHEAD FLY FISHING
Giant Snakehead fly fishing is about speed and accurate casting with popper or big streamers. A fish species that are famous for there power and very aggressive strikes!
We are pleased because there are not many places in Thailand, that can offer quality Giant Snakehead fly-fishing in the wild. This species is the top predator in our waters and they are a great fly fish species. You find them in the lake, very rarely up in the rivers. It's an ambush predator that use the weed, logs and snags as cover; for passing prey they can pounce on.
There are different ways to target Giant Snakehead on fly, the most used way is when they have young (fry). Here in southern Thailand, it is usually around July/September. Read more about Giant Snakehead fly fishing here
GIANT GOURAMI FLY FISHING
Giant Gourami are the "Jungle Permit" one of the most hard-fighting species in the jungle. We are proud to be the first fishing guide service that offers Giant Gourami fly fishing in Thailand.
Giant Gourami are found in the lake and in the lower part of the rivers up to 8-9 kg. They feed on fruit, aquatic weeds, various insects, crustaceans, earthworms as well as small fish and frogs. They can be caught by using small Streamer, Dry flies and Nymph. It's no secret that the Gourami is shy. Very shy!! Catching a Giant Gourami on fly rod is something, not many fly anglers have experienced. Gourami have long had a reputation for being one of the most difficult freshwater fish you can catch on fly at all. Sight fishing for Giant Gourami is incredibly exciting and you sometimes experience completely crazy fights when you finally have fooled this sometimes-impossible fish. Read more about Giant Gourami fly fishing here
HAMPALA BARB ON FLY
This is a fish species that deserves much more attention from the fly fisherman, than they actually get. It's a great fish on fly; they love fast moving streamer and popper and have a powerful take.
Hampala Barb are also known as 'jungle perch', can grow to over 2 feet in length and weigh in excess of 5 kg. Found in both the rivers and the lake all year round. In the lake you can often spot big shoals of Hampala Barb, as they press shoals of baitfish to the surface when they are feeding. During the rainy season the biggest fish migrate from the lake into the rivers. At that time, you can experience some incredible fly-fishing for Hampala barb; when it's the number caught, that counts!!

Asian River Catfish ON Fly
Asian river catfish is another species; you have the chance to catch on our jungle fly fishing trips in Thailand. This Catfish can and will fight dirty, using structure, water-flow and their powerful bodies to their advantage.
The Asian river Catfish is considered as a bottom feeder. But they do come up from the bottom and smash the fly, which in most cases results in some immensely powerful takes and strong runs. If you would like to tempt one of the whiskered Thai predators on fly, your best chances are early morning and again in the afternoon. Trophy size river catfish of 4 – 6 kg come to the river mouth, from deeper water and feed in the low part of the river. You will need 7-8 weight fly equipment with a sinking line or a set up with a floating line with a long leader. These setups together with some weighted flies and fished in the right way, will usually work fine
Fishing in Thailand with Thai Fishing
When booking a guided trip with Thai Fishing, all fly-fishing equipment is included. We use only high quality equipment but you are obviously welcome to use your own, if you prefer to do so. With our trips, there really are no hidden extras. All packages include all taxes, equipment hire, food, accommodation and transport. We offer pickup from Phuket, Krabi, Ao Nang, Khao Lak, Phang Nga and Surat Thani.