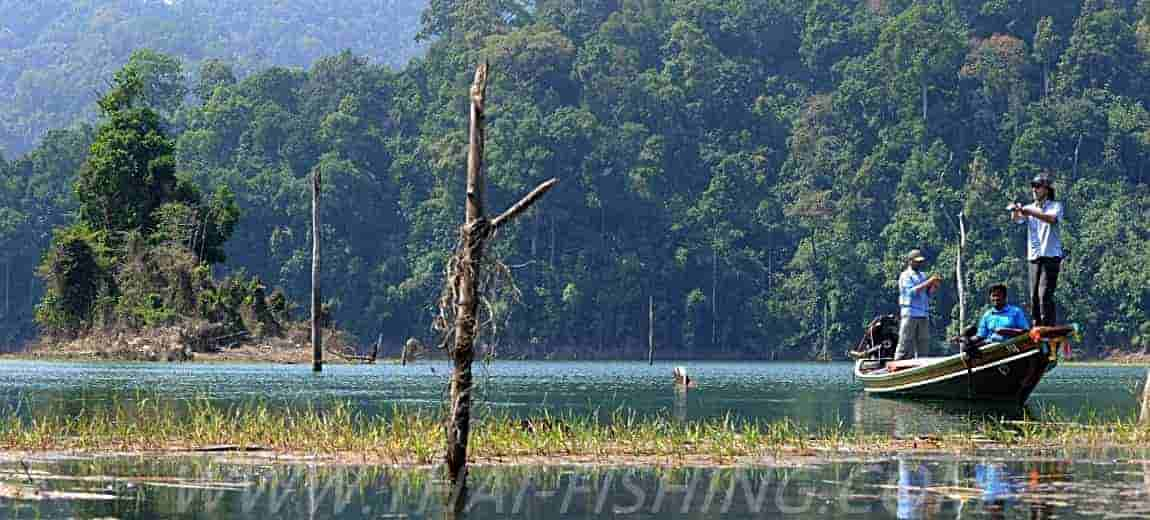 Lake Fishing in Thailand
Our Lake fishing trips offers a great Jungle fishing adventure; where our fishing guides will bring you to best wild freshwater fishing in Thailand.
The jungle Lakes in Thailand offer some great freshwater fishing; for anglers that are looking for a fishing experience beyond the ordinary. The Lake located in the heart of south Thailand's jungle, is much more than just another fishing vacation destination. This huge freshwater lake offer perfect habitat for large populations of many different species of fish and has the capacity to produce trophy fish. Surrounded by stunning views of mountains, not to mention hundreds of small Islands and bays.
Fly and Lure Fishing in the Lake
This amazing lake is a paradise for lure and fly angler, who have a penchant for wild and strong fish. Everything about this place is alive in the real sense.
Our fishing trips will give you the opportunity to catch some of the most popular freshwater sport's fish in Thailand. Which include Striped and Giant Snakehead, Hampala Barb also known as Jungle Perch, Blue and Thai Mahseer, Giant Gourami, Asian River Catfish, Giant Featherback and Great Snakehead; Just to mention some of the most famous species.
You can find much more info about the different fish that live in the lake, on our freshwater fish species page.
Lure Fishing
The lake fishing offers some fantastic lure fishing; in the weedy and submerged trees areas, hide the lake's predators, ready to attack an inattentive prey.
Many times the best fishing areas are the banks and shallow flats with vegetation, structure and shade cover; which are also the habitat for baitfish and many of the jungles water reptiles and amphibians the predatory fish feed on. Fishing in these areas with different styles of top-water baits like; Buzz-Bait, Soft Plastic Frogs, Jump Frog poppers and also "Walk-the-Dog" style of lures are all great, when they are fished properly.
The Top-water fishing is not only very productive; but also a great thrill, since most of the predatory fish hit with an extreme aggression and power; watching a calm surface suddenly explode, can make an angler totally addicted!!
We also use different types of crank-baits and jigs from time to time. There are days or conditions and also times in the season, where diving lures are more productive. But also some species like, the Asian River Catfish and Featherback are fish that normally reside in deeper water and will require a lure fished deep to be successful.
Fly Fishing
The lake fly fishing covers everything from casting big popper flies and streamers to delicate presentations of dry flies and Nymph.
The fishing requires different techniques and skills from the fly angler; depending on which species you wish to target. The lake's most aggressive predator fish like; Snakehead and Hampala Barb and also the Mahseer can be caught in different ways. Blind casting and stripping some streamers or poppers, can be productive. When using this technique it will be good, if you master a good "double haul" But an accurate 60-foot cast is better than a long bomb.
In the right conditions and if you have the patience; it takes to spot the fish. The lake hides some fantastic and very exciting sight fishing. Where the Snakehead fly fishing, is about speed and accurate casting and the fly fishing for Giant Gourami and partly Mahseer requires a more delicate and careful presentation of your fly.
A Unique Fishing Destinations
If you are looking for the adventure of a real jungle fishing trip in Thailand; where luxury accommodation is not the most important factor; but an experience you will remember a long time after the trip, then you have found what you are looking for.
Here you have breathtaking nature with an incredible wildlife such as Hornbills, Gibbons, Elephants and several other incredible creatures as a backdrop. It's just the whole package that makes our jungle fishing trips so special!