FAQ – Jungle Fly & Lure Fishing Thailand


Below you can find answers to some of the most frequently asked questions, about our jungle fishing tours in Thailand.
How do I get there / can you book transportation for me?
All packages include round-trip transfer from Phuket, Krabi, Ao Nang, Khao Lak, Phang Nga and Surat Thani. We will take care of you from the time we pick you up, to the end of your fishing trip.
Do you make 1 day trips?
Our jungle tours are multi-day trips, minimum 2 days / 1 night. For an optimum fishing experience we recommend fishing trips of at least 3 days, because of the travel time to these remote locations.
Where can I find prices for fishing trips /packages?
At the links below you can find; prices, what's included, what to bring, and much more info. As well it's possible to mix your fishing time in the rivers and the lake. Please ask on request and we will customize the right package for you.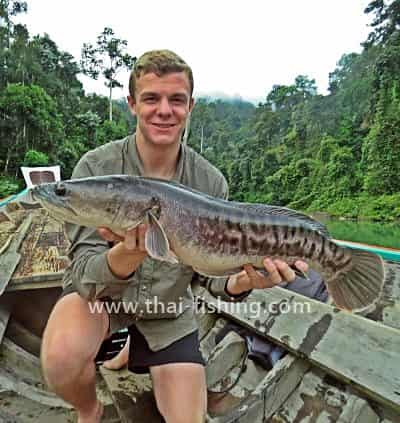 Lake Fishing Packages Here.
What about non-fishermen?
Non-fisherman are welcome to join the tour at cost price
Can I bring my own equipment?
All fishing tackle is included in our packages. But you are of course welcome to bring your own, if you prefer to do so.
Best time to go jungle fishing in Thailand?
Many anglers ask when is, the best time to come fishing in Thailand. – Well, sometime between July and February; but the right answer is not that simple. Our fishing season varies slightly every year, because it depends on how the monsoon season goes. The monsoon usually starts around May/June to late November; with the heaviest rainfall, between July-October. Dry season normally begins in the southern part of Thailand, in late November to May.
Each fish species has its own peak season, but can be caught all year round. We start to see the first fry ball from the Giant Snakehead on the lake in June/July. The breeding season is spread over 3 – 4 months and during this period is when their aggressive behavior, makes them one of the most exciting, freshwater fish in the world!
The Jungle Rivers begin to provide good water levels, in October/November and will offer some excellent fishing until around March / April. If you are looking for a trophy Mahseer in the rivers, you chance is never better than in the first months of the season. Not many river fishing days are lost from December to the end of the season, because of bad fishing conditions. But heavy rains will discolor our rivers and streams and this can happen at any time of the season.
Is the fishing best in the morning or afternoon?
It's hard to answer; maybe the morning fishing is the best time, later in the season. Where we usually will have long periods with hot and sunny days! Normally the lake fishes best, morning and afternoon. Around midday the fishing starts to slow down, when the heat and the sunlight is at its highest. The fishing improves again later in the afternoon. The river fishing is different, where the fish many times feed most of the day.
Can you help me with pre-trip preparation? What clothes should I take?
Once a deposit has been made, we will send you a full – packing list for you trip. This info can also be found, in our online fishing packages, below "what to bring"
What are the availabilities of each trip?
All our tours are private; we personally and meticulously tailor all tours to suit each guest.
What language is spoken and how will I communicate with my guide(s)?
There will always be an English-speaking guide on our trips and they will be happy to deal with any questions you may have.
Can I stay more time for a city tour or other activities?
The cities Phuket, Krabi, Ao Nang, Khao Lak, Phang Nga and Surat Thani, are all near our destination. All are fascinating with their own history and stories and have many great sights and locations to visit.
How much will it cost me extra for a single supplement and single room?
All tours are private; the price is calculated with 2 people per bungalow. Special rates can be made for single supplements i.e. single rooms, one angler per boat etc.
Can I extend my fishing trip?
You can stay for as long as you like. Some clients get to the end of the trip and wish they could stay for longer, while others are tired and want to go home. Special deals can be arranged for any clients who would like an extended trip. Please ask for prices.
Do I need a fishing license in Thailand?
All our packages include all taxes, licenses and fees that you need. Fishing licenses are not required in Thailand for rod fishing. You can fish anywhere that is public ,for example from the beach. But fishing is not allowed in Marine national parks.
What do I need to know about, vaccinations and medication etc.?
It is a personal decision which vaccinations you would like to have, we recommend you contact your private doctor. You should at least have vaccinations for, hepatitis A, hepatitis B and Japanese encephalitis.
Regarding mosquitoes and bugs?
Many customers are surprised over how few mosquitoes there are, when fishing the lake there are almost none. For you that will like to explore the Jungle Rivers, we do recommend using bug repellent. When hiking in the jungle in the wet season, there are leeches on land. We will provide specials socks, but if you should be bitten the bite is not dangerous. They are only on land, not in the water!
What about insurance?
We recommend that you arrange your own holiday / travel insurance when booking holidays in Thailand.
How fit should I be to go jungle river fishing in Thailand?
All tours are private, so it is up to you how adventurous you would like to be and your fitness level is part of this process. If you are fit and a relatively experienced trout angler; you have the chance to really be able to take advantage of all that this unique jungle river has to offer. The river fishing is, hike, wade and navigate the banks with your guide. It can be physically demanding and the rocks may be slippery.
How long the hike is on a day trip, can be all from 2 – 6 miles depending on your preferences. In some cases you will hike deep into the jungle, to access water seldom fished. Our guides' knowledge of the lake and rivers make them the best fishing guides for these pristine jungle waters. They are happy to help you reach waters you would not normally get to fish; they will make sure you are safe and have a great day on the river.
Should I do some practice casting before my fly fishing trip?
Because of the jungle background in the rivers, accuracy and limiting the number of back casts is beneficial. Places where there is no room for a back cast, roll casting and single-hand spey-casting techniques are good techniques to have. The lake fly fishing covers everything from casting big popper flies and streamers to delicate presentations of dry flies and Nymph. For some species the fly fishing is about speed and accurate casting; where other species will require a more delicate and careful presentation of your fly. In many cases it will be good if you master a good "double haul" But an accurate 50-foot cast is better than a long bomb.