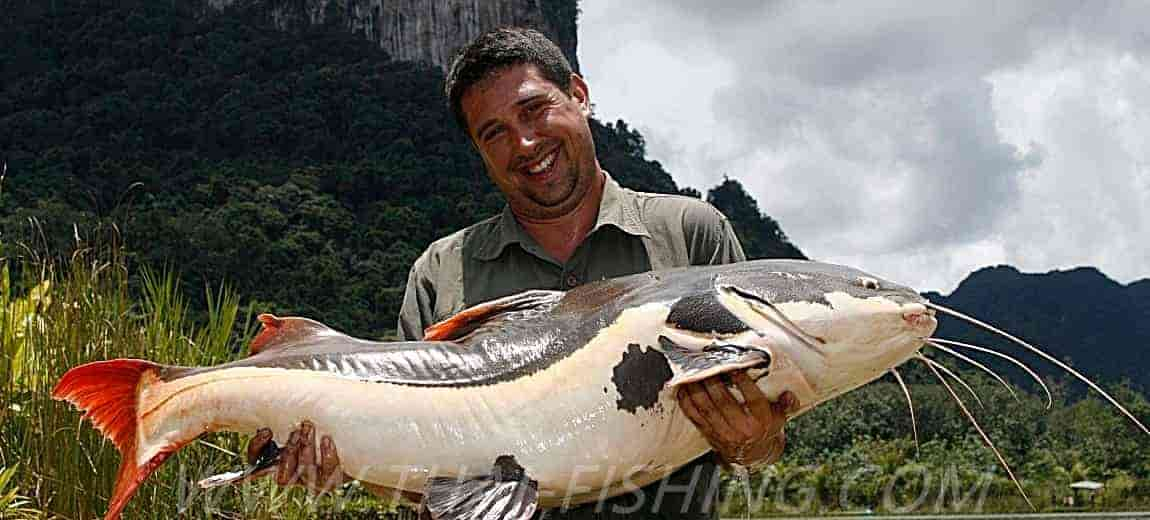 Krabi Fishing Resort
Fishing trips to the best fishing resort in Thailand. If your dream fish is an Arapaima, Giant Siamese Carp or Amazon Redtail Catfish; this fishing resort in Krabi is the place to go.
A 2 hour drive from Phuket or Khao Lak will take you to the most amazing commercial fishing in Thailand. The fishing resort is also the home of 2 world records and at least 14 other species known to exceed existing world records. The Krabi Fishing Resort, holds at least 52 different species of huge Thai and Amazon fish, and is your best option for the exclusive Arapaima, Giant Siamese Carp and Amazon Red Tail Catfish. Plus many other big fish not found anywhere else. This amazing Fishing Resort situated in Krabi and set in a landscaped garden with stunning mountain views.
Short list of fish species
Arapaima 260kg+, Giant Mekong Catfish 136kg+, Giant Freshwater Stingray 90kg+, Chao Phraya Catfish 75kg+, Giant Siamese Carp 90kg+, Giant Gourami 12kgs+, Thai Mahseer 17kg+, Amazon Red Tail Catfish 45kg+, Wallago Micropogan (black Wallago) 70kg+, Giant Snakehead 9kg+, Julian's Golden Carp 40kg+, Silver and Green Araowana 8 kg+, Black Pacu 26kg+, Alligator Gar 20 kg+, Spotted Featherback 8kg+, Tiger Cats Amazon and also Red tail Leopards15kg+.
The Fishing Resort is home to 6 species of fish over 100 lbs and several other species come close to 100 lbs. So there is a good reason for it now being considered as the best big fish venue in Thailand. The 12 acre fishing lake is set amongst landscaped gardens with jungle and the Limestone Mountains in the background. The lake is designed with deep channels, plateaus, shallow areas and also non–fishing areas making it the perfect habitat for the many different fish species.
RULES FOR FISHING AT KRABI FISHING RESORT
Here is a list of rules that you must read, understand and sign before you start fishing in Krabi. This is for your own personal safety, and also the safety of the fish. These fish are very large and powerful and can cause serious injury, so it is important that you follow the rules. So listen to the advice of the fishing guide who will be present at all times. You must enter the water for a photograph; no fish are allowed to be taken onto the banks of the lake. Any angler who breaks the rules will be told to leave immediately from the fishing resort with no reimbursement. The management of the fishing resort accepts no responsibility for your personal safety.
About the Fishing
The fishing includes the use of 2 Free Spirit 10ft 6lb Tc fishing rods per angler. The rods hold Shimano big bait runner long cast reels. Rod pod and electronic bite alarms, also all end tackle and a reasonable amount of bait. All anglers have an experienced English speaking guide on hand all the time. All anglers are supplied with 2 rods. Only one rod can be used with fish bait. The other one can be used with maize and/or boilies. It is possible to use a third rod which can be hired by the day and also can be used with fish bait.
All anglers are supplied with a reasonable amount of free bait per day. This works as follows:
– 1 bucket of sticker pellet weighs about 3 kg per day
– 1/2 kg dead sea fish per day
– 1 kilo Boilies per day
Additional bait can be purchased at a reasonable price.
Boilies, you can purchase them (in 1kg bags) All added flavors, dips, enhancers, etc. to be provided by the angler at own costs. No outside bait is allowed, also no homemade boilies, etc. Only the paying angler can fish. When you book a fishing package you will be guided with the fishing guide from the fishing resort, they are fishing there every day and know what is best! They are the best fishing guides you can get.
About the Resort
Accommodation consists of a 2 bedroom luxury lakeside bungalow with air-con, ceiling fan, TV with DVD, also fridge, mini-bar and wall safe. The front bedroom has a double bed: the rear bedroom has 2 single beds. In case of 1 angler: the angler gets the front room. In case of 2 or 3 anglers, they share the front and rear room (1 in the front, 2 in the rear room).
The rear bedroom has a separate front door and is only let with the front room. If the front room is booked alone, so will the rear room be locked and not let for the duration of your stay. Each bungalow has a large private bathroom with hot and cold water. There is a large covered balcony overlooking the lake, and all accommodation also includes breakfast and one non-fishing guest. to stay for free. All additional meals and drinks are charged for.
The Krabi Fishing Resort has a large restaurant/pub
There overlooking the lake, serving a full English and Thai menu, with large sports TV also a free pool table. A large infinity swimming pool overlooking the 9 acre lake set in 17 acres of private gardens. The complete complex is discreetly fenced with 24 hour security.