Fishing Similan Islands – Jigging and Popper Fishing Trips
Thai fishing offer jigging and popper fishing trips, in the waters around Similan Islands. Here you have the opportunity to experience some of Thailand's most spectacular saltwater fishing.
Our Similan Islands fishing trips will give you the chance to catch a variety of fish species such as: Amberjack, Dogtooth and Yellowfin Tuna, Spanish mackerel, Wahoo, Dorado, Barracuda, Cobia, Rainbow Runner and Big Giant Trevally. Our fishing tours are done, from our 2 walk-around sport fishing Speedboats.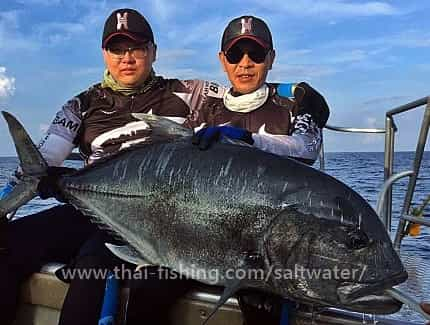 A 27 ft boat with a 250 HP outboard engine, (max 2 anglers)
A 44 ft boat with Twin 250 HP outboard engines, (max 6 anglers)
Having a fast boat means no unnecessary time wastage, getting you there quickly, which means you get more time fishing.
Similan Islands are a group of 9 granite Islands in the Andaman Sea a part of the Phang Nga Province. About 31 miles out of Khao Lak on the west coast of southern Thailand. The FAD (Fish Aggregating Devices) around the Islands and the twin sea–mount called Thon Mai. Where the water rises from 250 meters depth, to around 90 to 70 meters are fishing hot spots that offer some great jigging and popper fishing.
Jigging and popping fishing
Fishing in this area aren't for the faint at heart. This style of fishing is more for the adrenaline junkie, the athlete of the sport fishing world. High-end fishing tackle and big game drags will push the angler to his or her physical limits. It is difficult to explain to anglers who have never partaken in this demanding type of sport fishing.
The feelings and thoughts that go through your mind, when you first getting that first strike, followed by a rod bent, line screaming, runs that push you around the boat. It's a feeling you will never forget, and can make an angler totally addicted!!
Fishing Similan Islands from our Speedboats
Are all private charters and based out of Khao Lak, during the months of October to June. We offer different fishing trips from day trips to multi-day trips. For more info about our different trips, please use the link below.
Boat charter:
Fishing season:
The Islands is located on the west coast of Thailand in the Andaman Sea. In a season there are not many days lost because of bad sea conditions. Khao Lak and Similan have two main seasons. The "dry season" is generally from mid-October – to around May. During this period, the winds are mostly from the north east and the sea conditions usually good. During the "rainy season´´, from June to October; the winds turn around and will mostly come from the southwest, which gives bad sea conditions on the west coast.