Dorado Fishing in Khao Lak, Thailand – Longtail Boats Fishing Trips
Thai Fishing offer Dorado fishing trips in Khao Lak, from longtail boats. Located 100 km north of Phuket out on the west coast of southern Thailand to the Andaman Sea.
Here you will find the first line of FAD (Fish Aggregating Devices), about 6 km. outside of Khao Lak and they are scattered all the way out to the Similan Islands. On our Longtail boat fishing trips in Khao Lak, you will also have the chance to catch many others species like; Wahoo, Spanish mackerel, Barracuda, Queen Fish and Cobia.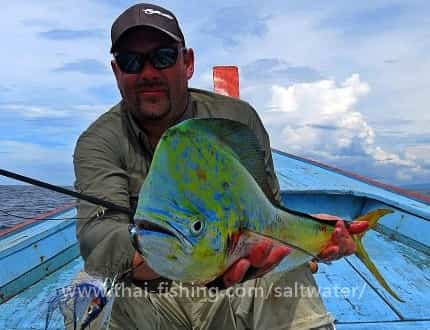 But the most catches are Dorado; which is maybe the most beautiful of all game fish species. It is almost impossible to describe their actual colors but the predominant body color is generally a rich gold, flecked with bright blue spots. The back and upper body can be electric blue or vivid iridescent green. They have the amazing ability to actually change color before your eyes. Once boated, they will lose their colors almost immediately and dead specimens barely resemble the outrageously colorful living creature.
It is called different names around the world but the most common names are Dorado, Mahi-mahi or Dolphin fish, it is also often called the poor man's Marlin. This title was no doubt bestowed on them because of their tenacious fighting characteristics. Their impressive, air acrobatic displays when hooked will thrill even the most discerning blue water anglers. The Dorado is a great game fish in its own right, when challenged on light equipment.
The FAD's are home for baitfish
Here you can find sardine, flying-fish, mackerel and squid and this is exactly what the Dorado feed on, and they like to stay nearby something that floats on the water, so the FAD's are a naturally place for the Dorado to hang around. The monsoon winds will normally start to turn around in the beginning of November, so that it comes from a north easterly direction, which means the water will be calmer on the west coast of Thailand. In December large schools of live bait start to congregate around the Khao Lak FAD's and the Dorado come right after. Late December to late March usually represent the most productive months.
The fishing is done from longtail boats, and the fishing method which will be used and at the same time the most productive, is fishing with live bait or trolling with dead bait. When you book a fishing trip with Thai Fishing all fishing equipment for bait fishing is included.
Fly fishing for Dorado
For the fly fisherman who would like to try fly fishing for Dorado. There are several different methods that can be productive. Fly fishing from our 27 ft speedboat, has resulted in some mighty impressive Dorado captures. Large specimens can be teased up in the same fashion as fly fishing for billfish. It works in the same way, you cast from one of the corners. From the other corner of the speed-boat. you have a string of bird teasers out. The teasers are used to attract fish to the boat and excite them to strike. They work by splashing and/or flashing on the surface. Please note; this method is not possible from the longtail boat.
Small, school Dorado can be taken by casting a fly close to the FAD, another and widely used method, is to catch one on bait and bring it close to the boat, and keep it in the water, it will often bring other Dorado close to the boat, that you then can cast to. There can only be fly fished with one rod from the boat at time, so if you are 2 fishermen you will need to share the same rod.
The fly fishing equipment
We recommend a 9 ft. 8 – 9 wt. Fly rod and reel, with floating, intermediate and fast sinking lines or shooting heads, for the small Dorado. A 10 to 12 wt rod and reel is a good 2nd rod for larger fish with larger flies, especially if you will troll the fly. Good flies for Dorado are fish and squid patterns and also poppers in colors: white/blue, pink/ white with flash.
Please note. We do not offer or rent out Fly fishing equipment and also flies. You will need to be able to make some long casts and there will be days / periods when the fish are not surface active, so fly fishing will not be productive.
Time schedule for fishing trips:
Tour starts at 07:30hrs pickup from your hotel in Khao Lak area, there will be approximately 20 minutes driving to the waiting longtail boat, on the way out to the FAD's we will be trolling with one or two rods. At the FAD you fishing with live bait or trolling with dead bait. The necessary fishing tackle for bait fishing and also bait is provided and you will be back at your hotel around 17:00hrs.
DORADO FISHING IN KHAO LAK PACKAGE:
Season: November – April
What is included in the price:
– Pick up from any hotel in Khao lak area
– Use of longtail boats
– Lunch, bottled water and soft drinks
– Thai captain and deckhands. They can help you with bait fishing. The staff are NOT fly fisherman.
– All bait fishing equipment and bait (You are obviously welcome to use your own equipment.)
What to bring:
– Polarized Sunglasses
– Sun lotion
– Fishing hat
– Camera and your very best smile
– Lightweight waterproof clothing
Price:
1 person 5.200THB
2 person 5.900THB
3 person 7.000THB
4 person 8.000THB
(The trip is private charter maximum 4 person only on the longtail boat)