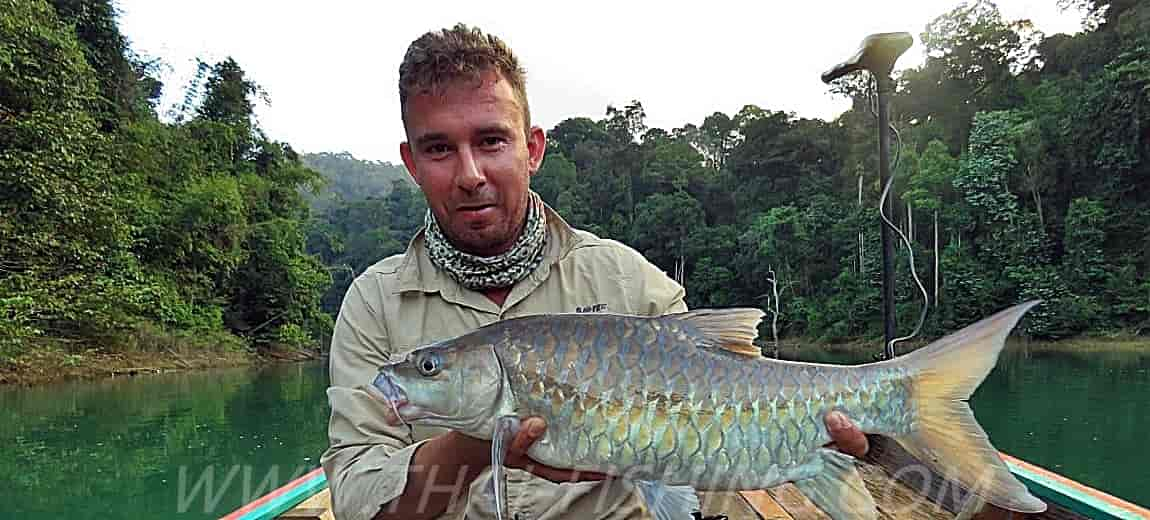 Gæst Kommentarer from our guided fishing trips
---
Hey Meik,
Good to hear from you and thanks for the photos, that really is the most beautiful fish. I can't begin to tell you how I enjoyed the whole experience and I am certain as my story reaches my friends and the fishing world you will receive some enquiries.
You did a great job, very professional, quality equipment, I shared your passion for fishing techniques and enjoyed your company.
Kind regards and very best wishes
Sean McClarron
---
Hi Meik,
Thanks for the great trip. We learned alot and it was indeed a humbling experience. Thanks for putting us on to the fish and your good company. We will be back some day for sure!
Regards,
Rainer
---
Hi Miek,
yes Alf and I returned safely thanks. It was nice to have a few days back in Ao Nang to reflect and relax.
I would like to sincerely thank you for an amazing adventure into your backyard jungle. I have undertaken many trips around the world but none match the uniqueness, remoteness, and magnitude of what you provide. Alf and I realise the fishing was a little challenging due to the conditions and water clarity but that is fishing. We still managed good number of masheer in the river although some were only small. I think this adds to the challenge and mystic of this type of fishing.
I hope the fishing goes well over the next few weeks.,
Regards
Andrew
---
Hi Meik
Have got back to Singapore and just wanted to thank you for a truly wonderful and unique few days of fishing. A trip I will never forget. Hopefully will be back to try your patience again soon !
Best wishes and enjoy your fishing trip.
Mark
---
Hello Meik,
Thank you very much for everything. I had a memorable time that will be always with me. Also I learned a lot from you. Thanks again.
Best regards. Jose
---
Hey Meik,
Brilliant! Thanks for taking and sending all those photos, I love them. It was a truly memorable trip! Thanks for everything and I hope to meet up and fish with you again someday. Take care and be safe out there!
Regards,
Mike
---
Thanks for such an epic trip Meik, we had such a great time and we would certainly like to visit again. I'm still laughing about some of the things we got up to there, I feel my batteries fully charged and ready to go again!
Have a great weekend and thanks again
Simon Beardow
---
Dear Meik,
I hope that you are well.
Just a short email to thank you for arranging a great day. Everything went very well; taxi, hotel, pickup and fishing. It was a great experience and a wonderful opportunity to visit a lovely part of Thailand. Once again thank you for a great day.
Regards
Patrick Southwood
---
Hello Meik,
Thank you for the amazing trip! We were blown away by your service. I appreciated you patience while try to figure out the river fishing. It was surely an exotic experience and I can't wait to hit the rivers with you again!
Cheers,
Crosby and Bea
---
Hi Meik
Thanks for the photos, I didn't realise you where so busy with the camera!
Can't thank you enough for the trip, loved it, even if my body didn't! You are a top guide Meik. Really enjoyed fishing with you
Have a good Christmas and New Year
Cheers
Mike
---
Meik, thanks again for a spectacular experience. Maybe one day we can enjoy fishing together on a future trip. I really had a great time.
Thank you.
Takashi Koseki
---
Meik, you run a great program and we were more than satisfied with our time with you. That trip made a mark on our lives that we will all fondly look back on for years to come. Thank you so much.
Bucky
---
Meik, thanks for what is one of the most AMAZING things Connor and I did in Thailand. The thrill of fishing with dry flies in beautiful, clear jungle rivers for Blue Mahseer was incredible. Thanks for taking the time to hike into more remote locations where we could see not only lots of fish, but wildlife. I will never forget the Giant King Cobra swimming in the water. The accommodations were great, and the food the best we ate in Thailand. We loved Thailand but fishing for Mahseer is the only thing I would come back to do again.
Dave and Connor O'Leary
Winners of The Amazing Race All Stars, Season 24.
---
Hello Meik,
Thank you for a great trip. I enjoyed myself, the fishing , your company and the setting. It was all that it was cracked up to be.
Best wishes to you and your family for much success and good luck.
Blair
---
Dear Meik,
I wanted to let you know that we had a great time fishing last week in Khao Lak. The guys on the boat did a superb job and we did very well with the fishing. We would certainly be happy to fish with them again.
Thanks again and best regards,
Paul
---
Good afternoon Meik,
Thank you again for the most amazing time! We will certainly recommend you and hope to be back!
We appreciate all your help. You are welcome to our home anytime should you ever wish to fish in cooler waters.
Cheers,
Dustin and Rae
---
Meik
Can't thank you enough for hard work and professional approach, which in turn made our trip into a memorable experience. Your knowledge and passion for what you do is clear to see, and would recommend your services to anyone
In the meantime, we wish you and your family a Happy New Year, and hope to see you next year
Regards
Mike
---
Hi Mike
Thank you for a really wonderful Thai fishing experience.
I had a great time, and let me know any way I can help you and your business.
I enjoyed our time together.
Cheers,
Barry
---
Dear Meik, back in England now, I really enjoyed our trip and will certainly come again when I can. I loved the aggressive takes on the dry flies particularly, but all those blue mahseer are really worthwhile fishing for. Also it was lovely to see such a pristine and healthy environment.
Best regards,
John Cranfield
---
Dear Meik Lykke,
Just a quick note to say thank you so much for a fantastic fishing adventure in Thailand. The highlight for me was the Mahseer fishing and the jungle experience which was just great. The Khao Lak adventure was as much about authentic Thai food as salt water fishing and the brief hook up with the black tip shark lengthened my right arm by six inches!!!
Singapore is an anti-climax after a fantastic holiday.
Thank you for the fantastic Thailand experience,
Lyall
---
Mike
The fishing was great the memories will be with us both forever. You are exactly the right guy for what you do; it was a perfect experience for us both. Thanks again for a great time!
We will fish together again I am sure!
Steve and MJ
---
Meik,
I wanted to thank you once again for the great fishing trip. It was an awesome experience for me and I look forward to fishing with you again sometime in the future. Not only is you business professional, but you as a guide are world class. Good luck salt water fishing for the next couple of weeks.
Keep in touch, and good luck fishing.
William Matulich
---
Hey Meik
Wanted to say thanx again for everything, I do feel like I became a better fly fisherman thanx to you. I have many good memories from the trip for sure. Also wanted to say if you looked into Lake Superior or Michigan steelheading and were interested. If you ever make it here to fish I'd enjoy fishing with you again. Just let me know if you do.
Jed Smith
---
Hi Meik,
The rest of my trip was good and i got back to Taiwan safely. But I want you to know that fishing with you was the highlight of my trip. It was good fishing, a beautiful place and great company. Your knowledge of the fish and fishing in the area was great and so helpful. Some good laughs with you and great memories.
I truly hope i will be able to join you again for some fishing in the future.
Thanks for a great adventure!!
Cheers,
Rhein
---
Thank you so much Meik.
Many thanks for everything, the whole experience was wonderful and I have so many memories that will be with me forever. Truly this was the trip I have always dreamed of and you helped to make it true, for this I will always appreciate you and cherish these memories.
My very best regards,
Paul England…….from Canada LOL
---
Hi Meik
Million thanks for the trip last week – an adventure of a lifetime.
I'm back home, back to work.
Again, many thanks for a great time.
All the best,
Finnur Malmquist
---
Hello again Meik
Thank you for some good days fishing in Thailand and thanks for the photo on the Barracuda.
It's always exiting to fish in warm water, you never know what could happened and if we had a little bit more luck we had a Marlin on the hook
We have wonderful memories from the fishing days and look forward to come and fish with you again J
I send some photos from our fishing.
Ditte and Karl and I say hello back to you. And say hello from us toThe Thai-Kaptain off the Long-Tail boat.
Sharp Hooks
/KristerOlausson
---
Hi, thanks a lot. I really appretiate the trip.Even more now, when i look back at it. It was HOT and so moist. But i miss it. I made some bad preparations but I can't do anything about that now. Thinking about going again but this time with my fishing friends. Then I'll bring my jerk gear with me 🙂 Hopefully I'll see you again.
Best regards Stoffe
---
Meik,
We just arrived back in Korea today and I have finally had a chance to look at the photos. They are wonderful! Thanks again for such a totally unique fly fishing experience. It was truly the highlight of my trip and certainly the highlight of my fishing career. I only regret I could not have had another day (or two) on the water.
Thanks again Meik and I hope you get a day for yourself on the water soon.
Nathan
---
Dear Meik,
Again, it was a great experience to go out in the wilderness with you and the Thai-guys. Thank You for the beautiful pictures.
Next Year I will be back for sure.
tight lines
Uwe
---
Hey Meik
Thanks again, I had a great time, and if you ever want to fish steelies in AK let me know.
Brett
---
Dear Meik Lykke
Thank you very much for the photos and some great fishing days. Very professional, great service, both my wife and I were delighted! Cherry on the cake, besides my first Giant Snakehead was the Thai Mahseer on the fly!
With kind regards,
Andrew Young
---
Dear Meik and Tik
Its a nearly a month now since we left Thailand, its cold wet and dark here most of the time and our holiday is now just a happy memory. We would like to thank you again for being such a good fishing guide and introducing us to the natural beauty and wildlife of Cheowlan lake's rainforests and rivers, we also would like to thank you for the photos they will certainly help to refresh our memory.
We hope business is good for you and you enjoyed your trip into the jungle with your friend, we will certainly recommend you to all our friends. It was really nice getting to know you both and we wish you lots of luck with your plans for the future.
Best wishes
Sue and John
---
Hi Meik Lykke,
Thanks for organizing a great trip. I've fished with a lot of guides and I have to say that I really enjoyed my time with you. You gave good suggestions, were patient, and you know how to find the fish. I learned a lot. All in all, it was an excellent experience. When I'm in Thailand again i will definitely give you a call and we will go out again.
Tight lines
Sven Gebert
---
Meik Lykke!
Great pictures, thanks my friend. Attached are a few of mine that you took, including of the big Mahseer. I wanted to thank you for a great time. It was an amazing trip, excellent fishing, food, and company. The scenery was spectacular. Thank you my friend,
Best of Luck
Mark
---
Hi Meik,
I just wanted to thank you for the pictures. As I said I had an amazing trip. Please take care of yourself and the family. Hopefully I will get to see you and go Jungle fishing again.

Kind regards,
Andy Bessellieu
---
Dear Meik.
I just want to thank you very much for great time and very professional work. I hope to fish with you many times again. I will certainly be very confident in both bringing my customers/friends and point any other anglers to you.
Stein and Ingo were extremely happy about the trip and commented on your great hosting and guiding.
Many thanks!
Jon.